Contact Us
Got a question?Let us help.
Contact
Products
News
NEW

MEC participated in the 2018 automechanika Shanghai International Auto Parts and Accessories exhibition and attracted many buyers from all over the world to come to the conference.
2019-01-14

2019 AMPA was grandly launched at the Nangang Exhibition Hall. This year, the second hall opened to attract many foreign customers come to visit. MEC participates in the AMPA Taipei exhibition every year. This year our main topic is focuses on the European truck mirror.Our product is favored by many foreign buyers. Customers say that our products are very detailed in materials and workmanship. It is a good product for high quality European markets. We are very grateful for this evaluation and we will keep it up.
2019-07-10
More
About Us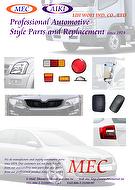 LIH WOEI IND. Co., Ltd with its brand, MEC was established in 1974. Specialized in Auto Lamps, Auto Mirrors and Style/Tuning Parts. Since then, Sincerity and Honesty are the principle and core value of our business. With such principle, we satisfy our clients with quality products, custom services, professional design and marketing strategies. Started with manufacturing motorcycle parts and auto parts, to our own efficient trading department, we are not only providing satisfied and certified after-market auto parts to our clients, we also help with branding and execution in their regional markets.

Being in the business for almost 4 decades, believing in hard work and customer-centered, has taken us all over the world. Our clients are mainly located in South East Asia, South Europe, Middle East, South America, etc. While passing the business knowledge and value to the next generation, a new OEM Department has created, on top of our original after-market auto parts production lines. Our OEM Department is currently working with Toyota, Lexus and Volkswagen. We are also in contact with other car makers and are looking forward to some exciting new OEM projects. Besides ,we also supplied brakes, hub, carburetor, spark plug and repair kits

We are constantly seeking ways to better ourselves either in design, development, production, or services, while proactively looking for new clients. Thus, we are very welcome strategic partners, from plastic industry, metal industry, tooling, new products development to market channels. If it sounds like you, please do feel free to contact us. You never know what sparks we can create to lead all to a brighter way.
More
Featured Products
Recommend Products
New Products